Page with the Indiana State Senate
The Indiana Senate Page Program is an interactive educational experience for students in grades 6-12 to learn about state government.
Senate pages have the opportunity to:
Tour Indiana's historical Statehouse, including the House and Senate Chambers, the Supreme Court, and an Executive Office.
Observe the legislative session directly from the floor of the Senate, listening to debates on important policy issues.
Meet and assist senators with age-appropriate tasks.
Senate Page Program Details
Indiana law allows Hoosier students to serve as a Senate Page one day per legislative session and receive an excused absence from school.
Senate Pages are scheduled for Mondays, Tuesdays, and Thursdays during the legislative session. Large groups may schedule page visits on Wednesdays by contacting the Page Program Office directly at (317) 232-9410 or PageProgram@iga.in.gov.
Pages should plan to arrive at the Senate Page office between 8:30 a.m. and 9 a.m. for registration and orientation. Pages will be dismissed at 3:30 p.m.
Pages have a supervised lunch in the Government Center cafeteria. Pages should plan to buy lunch in the cafeteria or bring a sack lunch. Parents and legal guardians over 18 years old can sign out a page for lunch.
Apply for the Senate Page Program
Applications to be a Senate Page for the next Legislative Session will open on December 5th.
2024 Page Program Application – Application Opening Soon
General Request Information:
Requests must include the parent/legal guardian's contact information, emergency contact information, the student's name, age and grade level, and school.
Each individual must fill out a separate application on the day they are intending to participate in the program.
Online applications may be submitted beginning on December 5th.
The Senate Page Office will email a schedule to each page approximately a week after their application is accepted. This email will also contain all the forms needed to serve as a page.
You can reach the Page Program Office at (317) 232-9410 or PageProgram@iga.in.gov with additional questions about the application process.
Senate Page Program Forms
The following completed forms are required for each Senate Page:
Learn More about the Indiana State Senate
Indiana General Assembly Website
Senate Republican Caucus Website

Senate Democrat Caucus Website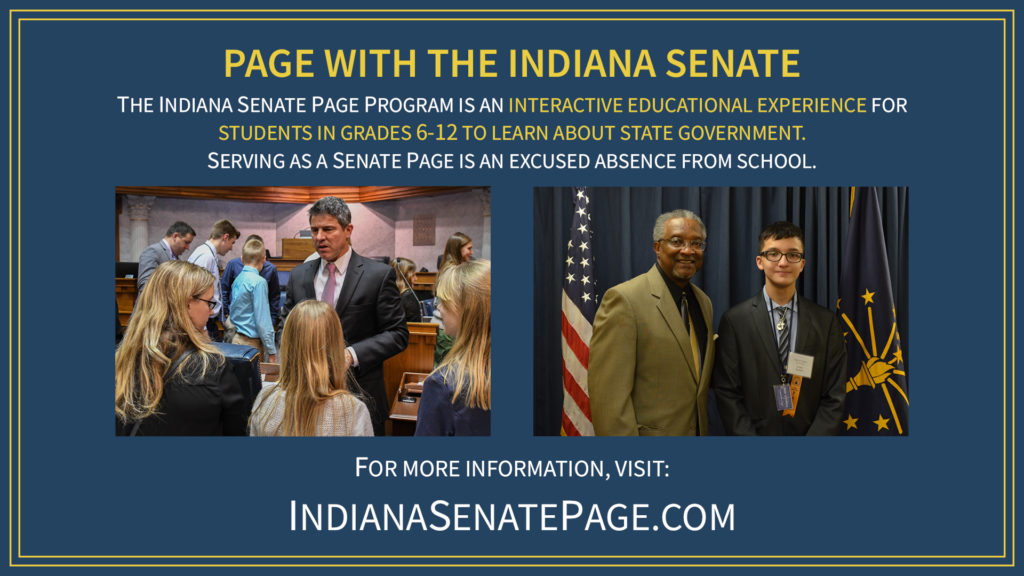 To contact the Senate Page Office call (317) 232-9410.